Cool Graduation Gifts: Best Phone & Tech Accessories for the Graduate in Your Life
May 25, 2021
As another unusual commencement season approaches, high school and college graduates are about to end one chapter of their lives and begin another. Many will be entering the workforce, others will continue their educational journeys, and some may still not have concrete plans for the future. However, as they walk divergent paths, one thing is true for all graduates: each has made it through one of the strangest years ever and has come out the other side.

Today's high school and college graduates belong to Gen Z. They are digital natives, most of whom have no memory of what life was like before smartphones and social media. Couple that with the fact that an estimated 98% of Gen Zers have their own smartphone, and you have arguably the most tech-savvy (and tech-dependent) graduating class in history.

So, what should you buy for your favorite graduate who's already up to his or her eyeballs in the most cutting-edge tech? A laptop stand? Wireless earbuds? How about one of these cool phone accessories for their favorite device?
Best Graduation Gifts for Her: The Cool Phone Accessories Your Graduate Can't Live Without
Let's be honest: smartphones are expensive. So, it stands to reason that if a graduate (or their parents) spent their hard-earned money on a brand-new iPhone or Galaxy, they'd do everything they could to protect their investment. That's where screen protectors come in.

A screen protector might seem like a pretty simple, unremarkable accessory (after all, its job is right there in its name). You might think that all screen protectors are basically the same, and that they make a pretty forgettable graduation gift. But, that couldn't be further from the truth.

Much like a smartphone case or skin, a screen protector can serve as an extension of the user's personality. MOXYO Mirror Glass, for instance, is one of the most unique screen protectors you'll find. Available in a variety of colors, Mirror Glass is made from ultrathin tempered glass for maximum protection against cracks and scratches. When the phone screen is activated, Mirror Glass works like any other screen protector: you still enjoy the bright colors and brilliant resolution you've come to expect from modern-day smartphones. When the screen shuts off, though … Mirror Glass turns your phone into a bold and brightly colored mirror—one that not only functions as a mirror, but also shows off your own personal style.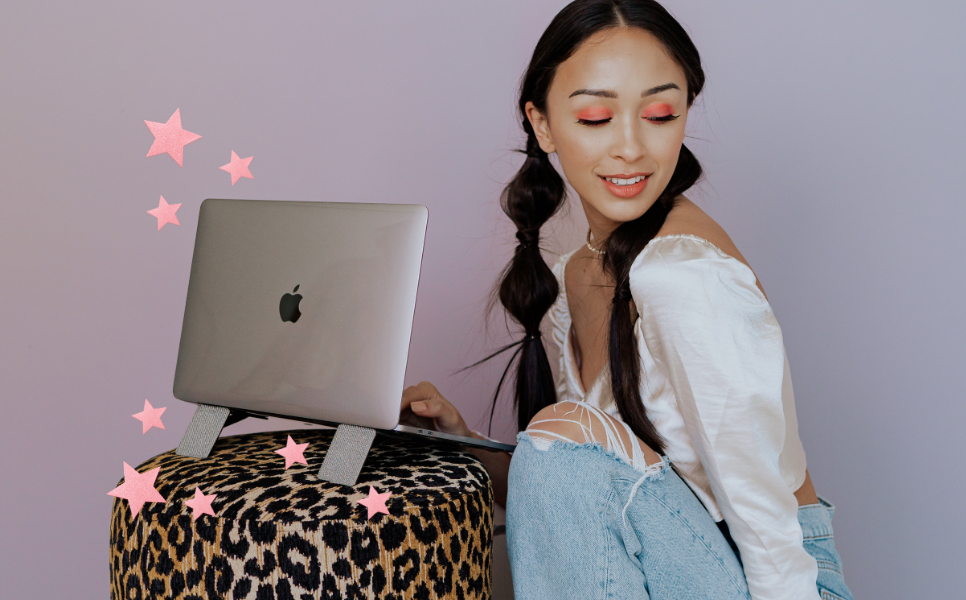 Mirror Glass isn't the only unique screen protector on the market.
MOXYO Glitter Glass
, much like Mirror Glass, is forged from the highest quality ultrathin tempered glass, giving a crisp, clear display when your phone screen is on. However, as soon as your phone screen shuts off, you'll see the unique glitter detail that gives Glitter Glass its name.
For those wanting a creative way to keep their phone close at hand at all times, the
Zigi™ Band
just might be the accessory of choice. Featuring unique, stylish designs—like colorful smiley faces and eye-catching patterns—the Zigi Band can be attached to anything and is the only smartphone wrist lanyard offering 360° rotation.
However, if you think your grad may benefit from a more all-encompassing, smartphone-carrying solution, the
Crossbody Phone Wallet
is the perfect choice. The Crossbody Wallet instantly transforms the user's phone into a sort of pseudo purse. It conveniently sticks to most phone cases, includes an over-the-shoulder carrying strap, and is designed to hold your most essential cards, like a credit card or license. Quite possibly the perfect gift for recent college grads, the Crossbody Wallet is ideal for busy, young professionals who are always on the go but don't want to carry their phone AND a bulky purse or wallet with them.
Let's Not Forget About the Guys: The Coolest Graduation Gifts for Him OR Her
Not all smartphone accessories skew female—far from it. Young men graduating from high school and college in 2021 have the same desire for similarly innovative and unique device accessories.

Virtually all new smartphones are enabled for Q1 wireless charging. Many other devices—including several tablets, smartwatches, and older smartphone models—were also designed with wireless- charging capability. Therefore, today's tech-savvy grads are ditching the tangled mess of cords in favor of a streamlined, stylish, simpler-charging solution. Enter the MOXYO Wireless Charging Pad. Featuring simple functionality, fast-charging capability, and an eye-catching design, this Wireless Charging Pad is a favorite among Gen Zers and Millennials alike.

Growing up as part of the first truly digital-native generation, the Class of 2021 use their smartphones for so much more than talking and texting. Already known for their tendency to be constantly multitasking, today's graduates turn to their phones as the device on which they often work, communicate with loved ones, consume entertainment, and more. So, for the young adult who's never doing fewer than two things at once, MOXYO's Portable Phone Stand is a game-changer. Featuring a non-slip grip bottom for unmatched stability and an innovative, slim-fit design that folds flat for maximum portability, the Phone Stand makes it easy to stream videos, learn new recipes, chat with friends, and more—whether at home or on the go.
A Smartphone Accessory Isn't Just an Accessory—It's an Extension of the User's Personality
Gen Z is unlike any generation that's come before it. They're adventurous, socially conscious, fiercely individualistic, and much more interested in self-expression than loyalty to any one particular brand. They also have more access to content, information, and state-of-the-art devices than even Millennials did at their age.

With the unparalleled struggles of the past year, the Class of 2021 is graduating at a very unique time in American history. Much like the Millennials before them who were poised to enter the workforce when the Great Recession wreaked havoc on the American economy, today's graduates face many unique challenges that will set them apart from younger Gen Zers.

But, the Class of 2021 is also a resilient bunch. Their fortitude has been tested over and over again as they have been forced to adapt to ever-changing, yet wholly unpredictable safety guidelines and protocols. They took a pretty serious blow, but in the face of all the 2020/2021 adversity, they were able to pick themselves up and persevere.

So, when shopping for the perfect graduation gift for your favorite Gen Zer, think about all they've been through, about the will they have shown to succeed, about the role technology and smart devices have played in their ability to make it through the past year. If you keep all that in mind—as well as the average graduate's penchant for all things bold and unique—you're sure to make any graduate(s) on your list very happy this year. And after the year they've had, they could really use it.