Spring Cleaning That Lasts: How Switching to Wireless Chargers Can Help Declutter Any Space
Apr 8, 2021
Spring is in the air, and that means spring cleaning season is here, too. From dusting to vacuuming, from getting rid of clutter to donating old and unwanted clothes, nothing quite compares to the feeling you get after cleaning and organizing. Especially after a long, cold, dark winter. Realistically, though, how long does it take for all your hard decluttering work to be undone? A couple months? A few weeks? Maybe even less? With so many projects to check off your list, it can be easy to overlook what is often the most obvious task, and among the easiest to solve quickly and permanently—organizing your electronics and the countless cables that come with them.
Cables, Cables Everywhere: Identifying and Organizing Your Top Clutter Culprits
From smartphones to smartwatches to earbuds and tablets, we rely on more devices today than ever before. The #1 problem that presents? At some point, all those devices need to charge.

As tech has taken over our lives, cables have taken over our spaces. With so much of the world's workforce now working from home, nowhere is this more apparent than in our home offices, our bedrooms, on our kitchen tables—wherever we find ourselves spending the majority of each workday.
The massive shift to remote working over the past year has left many professionals searching for the perfect solution to their clutter problems. For many, that solution may be as simple as ditching their cables, cords, wires—and switching to wireless chargers.
Cutting the Cord: Wireless Chargers and How They Help You Get Rid of Clutter
While not exactly "new" technology—the first were introduced about ten years ago—wireless chargers are still absolute gamechangers during spring cleaning. For starters, trading in that tangle of cords for a sleek, slim wireless charging pad will free up a ton of space on your desk, nightstand, or anywhere else in need of decluttering. Plus, once you experience the sheer convenience of wireless charging, there's no going back. But the icing on the cake? The right wireless charger for you should be as fabulous as it is functional.

The Wireless Charging Pad (Universal) from MOXYO® checks all these boxes (and then some). This Qi-certified wireless charger supports 5 watts for super-fast charging of a wide range of devices. A low, space-saving profile and an anti-slip mat keeps charging devices secure. Plus, this eye-catching charging pad is available in two vibrant, funky designs, making it the perfect choice for the office, bedroom, and beyond.

Above all else, you can feel good about buying one (or two or three) of these wireless chargers—a portion of every MOXYO purchase goes directly to benefit the Relief Haven Foundation, offering specific, precise assistance to those who need it most.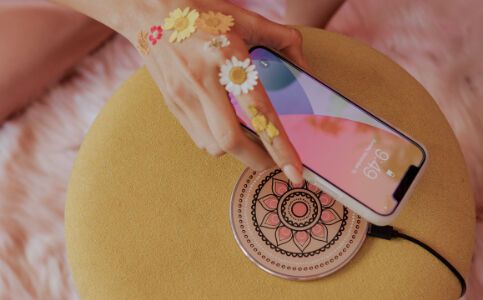 This Spring, Make Cord Clutter a Thing of the Past
The feeling of accomplishment you get after successfully decluttering and organizing your home is unlike any other. But once you start wondering how long it might be before everything is out of place again, that feeling of accomplishment can be short-lived. Next time you sit down at your desk, look at the mess of wires wrapped around everything—and imagine how much more organized you'd be if you replaced them with wireless charging pads from MOXYO.